Our Cushion Inner Pads
All About Our Cushion Inners
All our cushion inners are British manufactured specifically for us and are generously filled. They are responsibly sourced with full certification regarding traceability, where applicable, and all comply with British Safety Standards 5852 Part 2 Ignition Source 2.
We offer three types of filling for our cushion inners pads:
Non Allergic Eco Hollowfibre

Quality 100% White Duck Feather Pads

Luxury 85% Duck Feather & 15% Duck Down Pads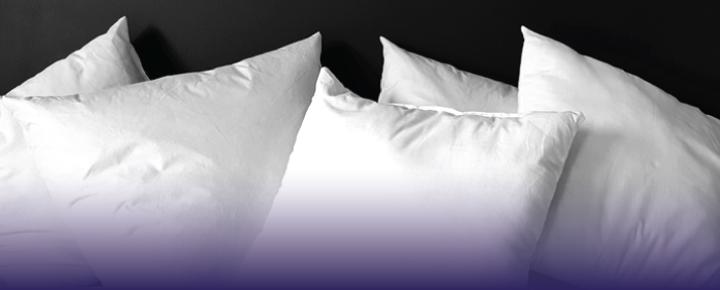 Non Allergic Eco Hollowfibre Cushion Pads
If you have an allergy to feathers or if you would rather an alternative then we offer a non allergic eco hollowfibre for all cushion sizes.
Made from recycled processed plastic drinks bottles, these cushion inner pads offer the ultimate alternative to feather/down inners. These cushion pads are excellent quality, soft and comfortable and provide good support whilst retaining their shape well. They can require less plumping up than some feather alternatives and are supplied in a white polyester cotton cover.

Quality Feather Cushion Pads
Made from 100% white* curled duck feather filling. These full cushions maintain their shape and come with an ecru/cream coloured 100% cotton cambric cover.

The small white* duck feathers used to fill these pads are pre-treated to curl them, removing their quills for added softness and allowing the cushion to keep its shape. A spring-like action creates bounce for the cushion with good recovery of its plumpness and softness.
*as all feathers are naturally coloured then there may be a slight variation in colour and occasionally an odd darker feather will be present. This does affect the excellent quality of your cushion inner or visibly show in any way through your cushion cover.
Quality feather cushion inner pads at a great price.
Luxury 85% Feather and 15% Down Cushion Pads
This inner pad consists of 85% white curled duck feather and 15% white duck-down filling These soft, plump cushions superbly maintain their shape and have an ecru/cream coloured 100% cotton cambric cover.
The addition of 15% pure white duck-down to white duck feathers in this cushion filling gives additional plumpness, bounce and warmth to these cushion pads.

Infusing the two fillings of curled feather and luxurious soft white down feathers, this premium range gives a real touch of class at an affordable price.
Please note, all our inner pads supplied to you are around 5cm bigger than your chosen cushion cover size. This allows the cushion to maintain it's shape and plumpness better
Do you want even more luxury? We are also able to offer:
Luxury 70% Feather and 30% Down Cushion Pads

Luxury 51% Down and 49% Feather Pads

Super-Indulgent 100% Down Cushion Pads
Please contact us for further details and a price quote.
You can of course purchase a cushion cover from us without an inner pad and if you decide to do so then we are always happy to advise on the best size and filling for your chosen cushion.